Awaiting The Tournament of the Champions
Friday, the 16th of July, can't come soon enough! Tournament of the Champions
In 2019 we watched, breathless, as a group of six strangers teamed up to beat a deadly escape room they'd been mysteriously invited to.
We watched as they slowly got picked off one by one till it all culminated in a fiery climax and a cliffhanger.
And now, come Friday, July 16th, we're set to discover what happens next…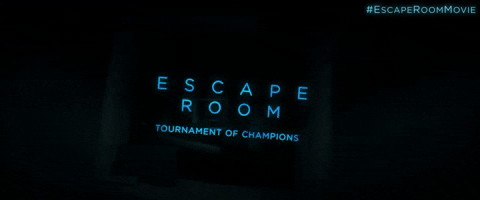 Awaiting the Tournament of the Champions
It's been almost two years since we last saw our group of escape room heroes match wits against the deadly escape rooms created by a shadowy escape room corporation.
Director Adam Robitel had teased a sequel - and a killer sequel at that - was in the works in 2019 itself…
We did fire, gravity, ice, cold, gas so we need to outdo ourselves now. We're in the box. I can't draw and quarter somebody, so what are those visual ticking clocks? We have some really cool stuff we're developing and hopefully the audience will think that way too, but it's tougher
And we did hear whispers of the filming having begun and being on track for a 2020 release, but then this…
...got in the way.
Anyway, as they say...better late than never!
How did the first movie end? A recap
WARNING: Spoilers ahead. If you haven't watched the first movie, maybe it's time you did.
With that being said…
We know that the first movie saw the team of six get picked off one by one till they were down to two - Zoey Davis and Ben Miller.
The two of them succeeded in outwitting - and killing - the Gamemaster and exiting the room.
The room then vanished, leaving them with no way to find out who was behind it all.
Six months later Zoey and Ben manage to pinpoint the existence of the Minos Escape Room Corporation - the shadowy corporation behind the rooms - in New York.
They resolve to travel to New York to bring down Minos and The Puzzle Maker...but unbeknownst to them, they are being manipulated into taking part in another, deadlier, escape room.
And what do we know about Tournament of Champions?
Well we do know - from the trailer - that Zoey and Ben are travelling on what they thought was the subway car, with a few other people…
When they discover that they are in fact beginning another series of deadly escape rooms, beginning with a rather electrifying experience aboard the "subway car"...
...and that the other people in the car with them are probably other 'champions', having made it out of other escape rooms elsewhere.
We also know that…
They will face one escape game in a city bank setting, and one set in a quaint beach town.
And finally we know that it's directed by Adam Robitel, who directed the first movie.
As far as the cast is concerned, we know that Taylor Russell and Logan Miller have reprised their roles as Zoey and Ben from the first movie.
The other cast members (most probably the other 'champions') are  Holland Roden, Isabelle Fuhrman, Carlito Olivero, Indya Moore and a few others.
Once again, it's gonna be released on Friday, the 16th of July.
If you plan to watch it in theatres, you may want to start planning and scouting for tickets right now, because all indications are that it's a pretty in-demand movie.
If you want to catch it on a streaming service, keep checking your Amazon Prime, Netflix, Hulu and other accounts till you find when it's gonna drop there.
And finally, you can think about doing an actual escape room - Warwickshire's finest - to get a feel of an escape room.
Banner image courtesy https://www.digitalspy.com/movies/trailers/a36520008/escape-room-2-trailer/.