Sending 2020 packing, and welcoming 2021 at home
Stay-at-home is just an opportunity for you to get innovative and plan a party you'll never forget!
It's that time of the year again!
Time to send the year 2020 packing, and welcome in the new year 2021.
Worried about the curbs put on being out and meeting people?
Tensed over celebrating New Year 2021 at home?
Don't be!
A stay-at-home regime is simply an opportunity for you to get innovative on your party planning, and celebrate New Year's Eve as you never have before!
Here's how:
It's not really a celebration without a bit of decoration, is it?
Deck out your home in celebration of the New Year!
One option would be to use absolutely gorgeous balloons like you see in the picture.
These will also create an absolutely stunning backdrop for a picture, so now you know what your first Instagram picture of 2021 will be!
You arouse my gastronomic juices, madame.
That was Hercule Poirot's response when he was told the menu for the party luncheon.
The antiquated nature of his reply aside, it does show how central a good meal is to the success of a celebration.
So, make sure you plan yours to be a really sumptuous one!
If you want to skip the preparation of the meal, order online, from a local eatery. That way, you support a local business, and spread the holiday cheer.
If you want to prepare the meal yourself, you can order a 'meal box' that provides you with ingredients and a 'how to' manual.
Mindful chef offers such a service. They also donate one meal to charity for every order placed with them.
On the other hand, if you want to go completely solo, here are some New Year's Eve recipes you can follow.
Organize a video call with your loved ones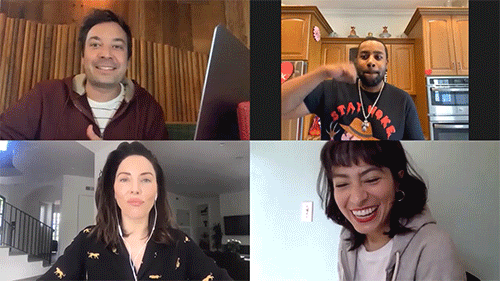 So what if you're staying home? That does NOT have to mean you just give up on getting in touch with your loved ones.

Organize a video call with family and friends, and have a merry time together!

You can take an online class together, watch a movie (such as via Netflix's Watch Party), and even take part in some New Year's Eve party games.
New Year's Eve party games
Here are a few games you can work into your New Year's Eve party:
Two resolutions and a lie
You can play this in-person, or over your video call.

The idea is that every participant relates three New Year's Resolutions.

However, only two of them are resolutions they actually plan on taking...and one is not.

The rest of the guests have to figure out which is the not.
This is a home version of a staple at shopping malls.

Fill a bowl with sweets, and ask guests to guess how many sweets there are.

The one with the closest guess wins.
...do I need to explain that this is the famous drinking game, New Year's Eve version?

Obviously, you need to be an all-adults party for this one.

Go all in on creating wild prompts, such as 'drink if you snapped a selfie'.
List out a list of celebrities, events, and so on from 2020, on pieces of paper, throw them into a bowl, and see who draws what!
At the beginning of the game, each guest is given a bracelet.

Choose a trigger word, for example, 'yes'.

While you're all conversing among yourselves, anyone who can get someone else to say the trigger word gets the other person's bracelet.

We hope you have a very happy and prosperous New Year…

(All the gifs are courtesy of giphy)